INSTIZ: A Post on Seoul National University Bamboo Groove by an Idol Fanboyㅋㅋㅋ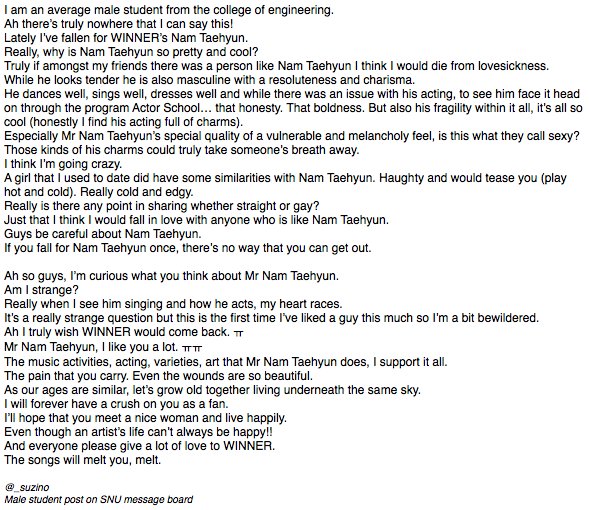 1. Taehyun is really quite attractive
ㅋㅋㅋㅋㅋㅋㅋ
2. ㅋㅋㅋㅋㅋㅋㅋD
iabolic charms of Nam Taehyun
ㅋㅋㅋㅋ
3. ㅋㅋㅋㅋㅋㅋP
ersonally, I love Nam Taehyun's decadent beauty.
4. So cute
ㅋㅋㅋㅋㅋ
I'd like to be friends with this person
ㅋㅋㅋㅋㅋㅋ
5. ㅋㅋㅋㅋㅋㅋㅋㅋㅋㅋH
e seems to be already lovesick
ㅋㅋㅋㅋㅋㅋㅋㅋ
To say that 'even your wounds are beautiful' is so romantic
ㅜㅜ
6. ㅋㅋㅋㅋㅋㅋㅋㅋㅋㅋㅋㅋ
Nam Taehyun really is attractive…all I know is his face and his name, but if I were to choose a charming idol, I would choose him straight away.
7. What the
ㅋㅋㅋㅋㅋㅋㅋㅋㅋㅋㅋㅋㅋㅋㅋㅋㅋㅋㅋㅋㅋㅋㅋㅋㅋ
but I can understand why...
8. He was so cool in Actor School ...